Welcome to New England Ski for Light
---
Upcoming Trips & Events
---
1. Craftsbury Winter Cross Country Ski and Snowshoe Trip – Winter 2024
Location: Craftsbury, VT
Date: Thursday, January 4th – Sunday, January 7th 2024
Cost: $310 ($20 late fee if received after 12/14/23)
---
2. Weston Ski and Snowshoe Day Trip – Winter 2024
Location: Weston Ski Track, 190 Park Rd, Weston, MA 02493
Date: Sunday, January, 14th 2024 from 9:30 am EDT to 2:30 pm EDT
Cost: $20
---
3. White Mountains Winter Wonderland Hiking and Snowshoe Trip – Winter 2024
Location: The AMC Highland Center White Mountain National Forest
Date: Saturday, February 17th – Monday, February 19th 2024 (President's Day Weekend)
Cost: $50
---
4. Late Winter Weekend Wayside Inn Cross Country Ski and Snowshoe Trip – Winter 2024
Location: Bethlehem, NH
Date: Friday, March 8th 2024 – Sunday, March 10th 2024
Cost: $295
---
Our forms are now paperless! Access your form via the designated link below to complete and submit online.
Volunteer guides needed!
To volunteer please call or email us. Thank you!
Zoom Orientation for first time ski guides is on Thursday, December 14th from 7:00 pm EDT – 8:45 pm EDT. Please save the date.
---
Celebrating Volunteer Guide Diane Manganaro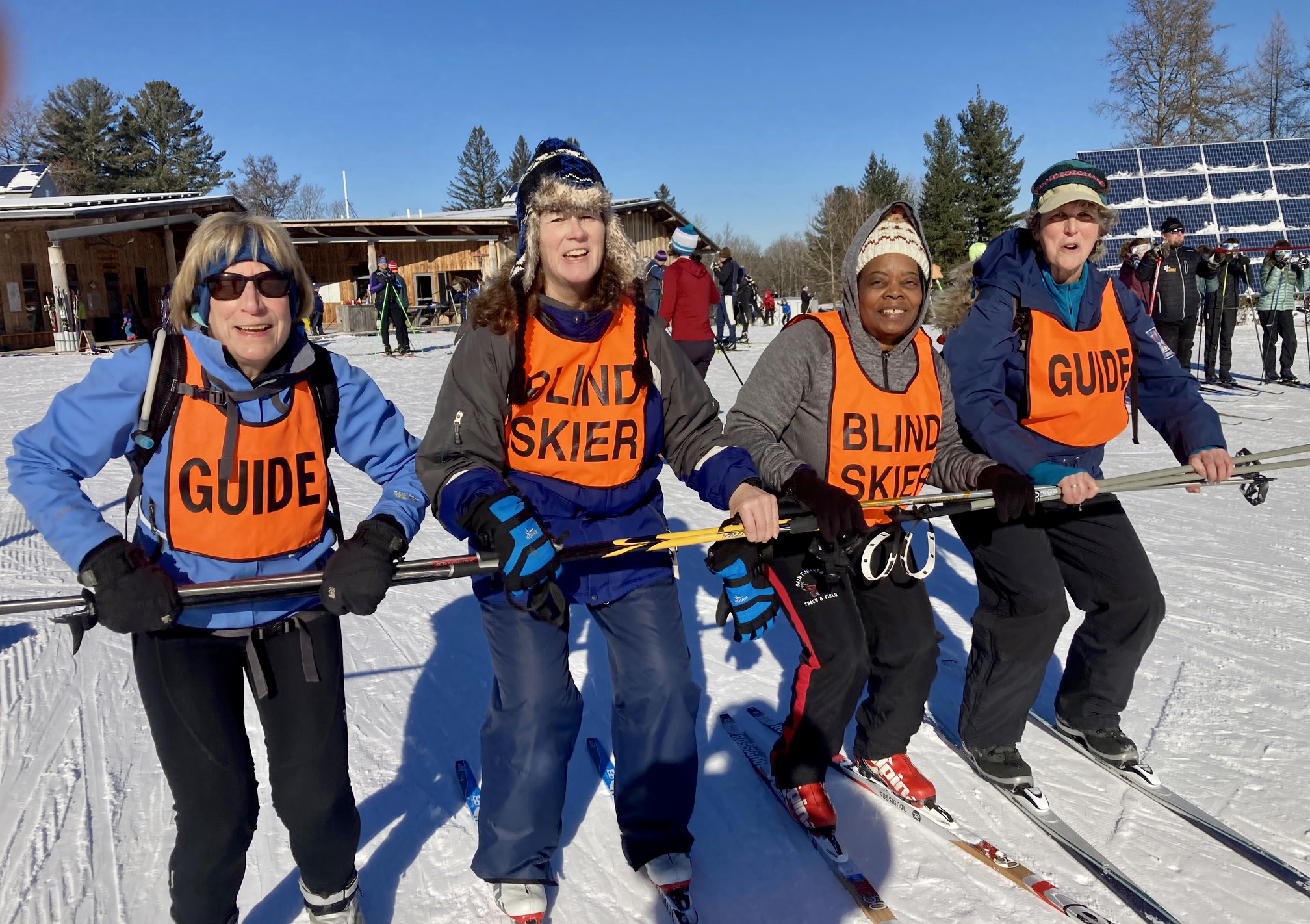 New England Ski for Light as a thanks to our wonderful sighted guide volunteers and thanks to fundraising efforts from Martha Steele, Ferdinand Lauffer and Maurie Hill, are sponsoring Diane to guide at the Ski For Light International 2024 week in Rhinelander, Wisconsin where more than 200 guides and visually impaired participants will XC ski the full week.
To learn more about Diane and Ski For Light international click here
---
About NESFL
NESFL is an all-volunteer 501(c)(3) nonprofit organization founded in 1977 to promote physical activity for blind and visually impaired participants through adaptive sports. Our mission is to provide a supportive atmosphere where visually impaired participants and sighted guides are paired to access outdoor sports.
We run cross-country skiing and snowshoeing events in the winter and hiking, kayaking, and tandem cycling during the warmer months. Our events range from day trips in the greater Boston area to 2-4 day events throughout New England, including the White Mountains of New Hampshire and the Northeast Kingdom of VT.
We are based in New England, but our community spans the entire US. We pride ourselves on bringing people together in a fun and social environment where we share our passion for sports. Please join us!
---
Make a Donation
New England Ski for Light is an all-volunteer organization. 100% of your donation goes directly to help support our mission. Click the Donate button below to donate via PayPal.
---
Sign Up for Our Mailing List