Stoking Blind on a Tandem Bicycle: Engaging the senses along the Lamoille Valley Rail Trail (LVRT)
The Ride
On June 10 and 11, 2023, New England Ski for Light (NESFL) long-time volunteer ski guide, Ferdinand Lauffer, will join NESFL's visually impaired participant Martha Steele, on a 93-mile benefit ride on the newly completed Lamoille Valley Rail Trail (LVRT) in Northern Vermont. Along this picturesque ride through 18 towns, Martha will celebrate the trail by identifying an estimated 50 to 75 bird species. Together, the riders will highlight the importance of the access to nature and adaptive sports for blind and visually impaired individuals like the community of participants NESFL serves.
On June 10th departing from Swanton, VT Captain and Stoker start their journey to St. Johnsbury, VT, planning to arrive on June 11. On June 10th,the historic Governor's House in Hyde Park, VT, a proud Gold sponsor of this event, located on the LVRT trail route, will host this tandem team.
About the Trail (LVRT)
The LVRT is a four-season, multi-purpose recreation and transportation corridor across northern Vermont following the former picturesque Lamoille Valley Railroad rail line. Running from Swanton in the Champlain Valley across the state to St. Johnsbury in the Connecticut River valley, the LVRT is one of the longest rail-trails in New England. Because the LVRT's grade never exceeds three percent, it is accessible to a variety of trail users and abilities.
In the warmer months, the trail can be utilized for walking, jogging, hiking, cycling, and horseback riding. Local snowmobile clubs maintain and groom the trail through winter, allowing for snowshoeing, Nordic skiing, snowmobiling, and dog sledding.
Meet Stoker: Martha Steele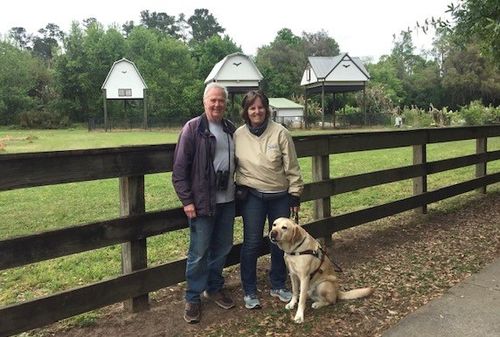 The stoker, Martha Steele, has been active in athletics and outdoor recreational activities throughout her life. As her vision worsened, however, she had to give up many activities. But, thanks to organizations including New England Ski for Light, Martha has been able to resume beloved outdoor activities, such as cross-country and downhill skiing, hiking, and tandem cycling with the help of wonderful sighted guides.
In addition, Martha is a passionate birder who has learned to bird with vision first due to hearing loss. Later, receiving cochlear implants in 2010 and 2015 and expanding her birding skills to identify birds by their songs after having lost the ability to see them. On the ride, Martha will be tabulating the species of birds she hears along the route, expected to total between 50 and 75 species!
Explore the captivating article "Birding Blind: Identifying Birds" by Song' featuring Martha Steele: Click here to read!
Meet Tandem Captain: Ferdinand Lauffer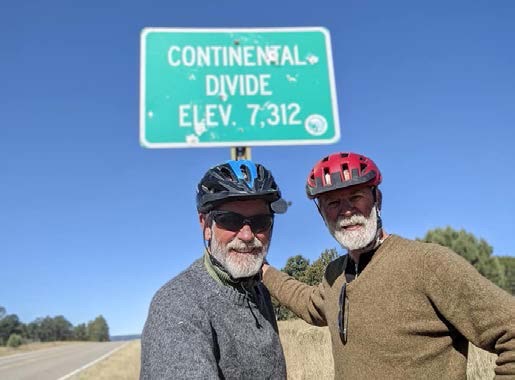 Ferdinand Lauffer, the tandem captain, is an avid cyclist. He completed his first long-distance ride in 2004, when he and his wife biked 500 miles over a 10-day period in Spain. Since then, Lauffer has continued biking long distances, including a 90 hour, 1,200-kilometer ride in France and a cross country ride in the U.S., which Lauffer successfully completed in about six weeks.
Their Mission
The riders aim to raise $5,000 for the all volunteer NESFL whose mission is to promote physical activity for blind and visually impaired participants through adaptive sports.
NESFL is seeking sponsors and to support the ride. We will also be conducting outreach to the Vermont electronic and print media outlets to raise awareness of NESFL and the ability of blind and visually impaired individuals to enjoy outdoor recreational activities. We invite you to join us in supporting the benefit ride with a gift to NESFL. Please donate and share the following link:
Because NESFL is an all volunteer non-profit organization, 100% of your donation will go to purchasing safety equipment, providing financial assistance to volunteers guides and visually impaired participants for our trips and cover rentals and other organizational necessities.
Fundraising Status
Goal: $5,000
Progress: $2,485
Anyone who makes a minimum $50 donation to NESFL by Friday, June 9th at 9 P.M. in support of Martha's LRVT Tandem Ride Fundraisers for NESFL ride will be automatically entered into the raffle to receive the Cabot Creamery gift basket valued at $50. The winner will be notified on Saturday, June 10th via email!
Thank you to Cabot Creamery of Vermont for donating the gift basket of 8 fine New England cheeses, a cutting board, knife and tote!
You can also donate via check. Mail to:
NESFL
PO Box 390182
Cambridge, MA 02139
Sponsors
Title Sponsor: TBD
Gold Level Sponsors: $250
The Carroll Center for the Blind, Newton, MA
The Governor's House, Hyde Park, VT
Craftsbury Outdoor Center, Craftsbury, VT
Bootlegger Bikes, Jeffersonville, VT & St. Albans, VT